ASE A6 Electrical Electronics Practice Test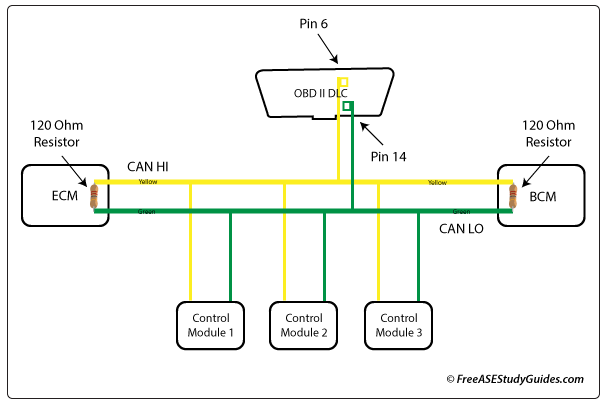 60. With the engine running, the voltage between the DLC's pin 6 and ground measures 3.00 Vdc, and the voltage between pin 14 and ground measures 2.00 Vdc. Technician A says this is normal. Technician B says these readings indicate crossed wires or shorted connector pins. Who is correct?
A. Technician A
B. Technician B
C. Both A and B
D. Neither A or B
60.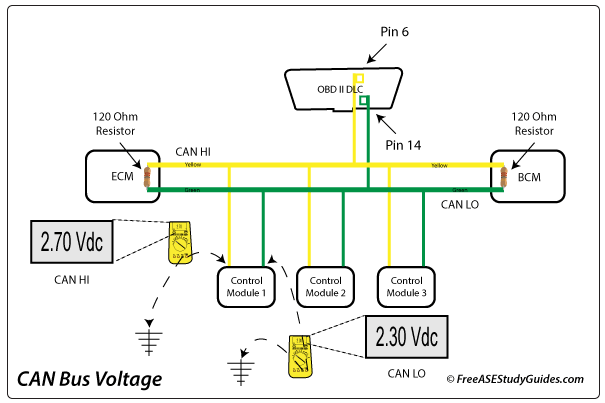 Answer A is correct. The reading changes with the activity on the bus. Typically, the measurement is taken from the OBD II DLC of a system without a gateway or by back-probing the CAN HI and CAN LO pins of an easy-to-access control module's connector on a system with a gateway. The signal should be above 2.5 Vdc on the CAN HI wire and below 2.5 Vdc on the CAN LO wire.
Answer B is wrong. When CAN HI shorts to CAN LO, the voltage will remain around 2.5 Vdc on both wires.
Answer C is wrong. Technician A is correct.
Answer D is wrong. Technician A is correct.