Transmission Shift Solenoids
Shift solenoids are actuators used by electronically controlled transmissions to control fluid flow. Some of today's transmissions use (PWM) pulse width modulated solenoids that are controlled by a duty cycle. A 25% duty cycle means that the PWM solenoid is powered on 25% of the time and off 75%.
Standard on/off solenoids have only two positions, either on or off. They consist of a spring loaded plunger wrapped with a coil of wire that when energized, draws the plunger inwards, either opening or closing a hydraulic circuit. When power is removed from the solenoid, the plunger is then pushed by a spring to its normal position. A solenoid can be normally open or normally closed depending on the transmission.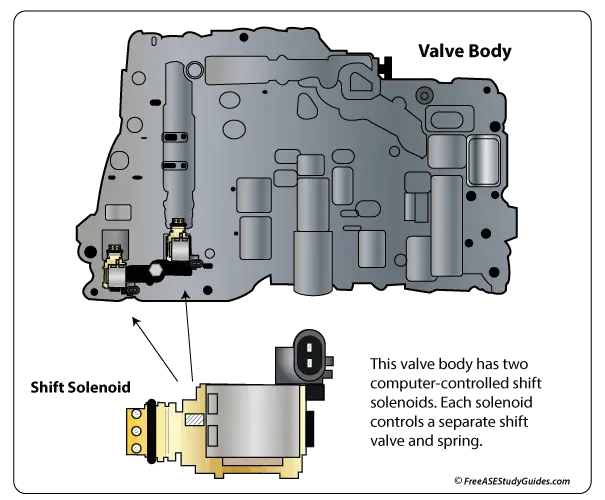 These shift solenoids can be controlled by either the ground or the power side of the circuit. On some transmissions (usually foreign) the solenoid is controlled by a 12 V signal from the (TCM) transmission control module. Other transmissions control the solenoid from the ground side, (usually domestic) by pulsing the ground circuit on and off.
If there were two solenoids the transmission may activate solenoid A for first gear, both solenoids for second gear, only solenoid B for third gear, and neither of the two for forth. Solenoids are actuators; devices the transmission control unit uses to mechanically achieve a desired result. They're controlled by the TCM based upon inputs from both engine and transmission sensors.