Characteristics of Refrigerant 134a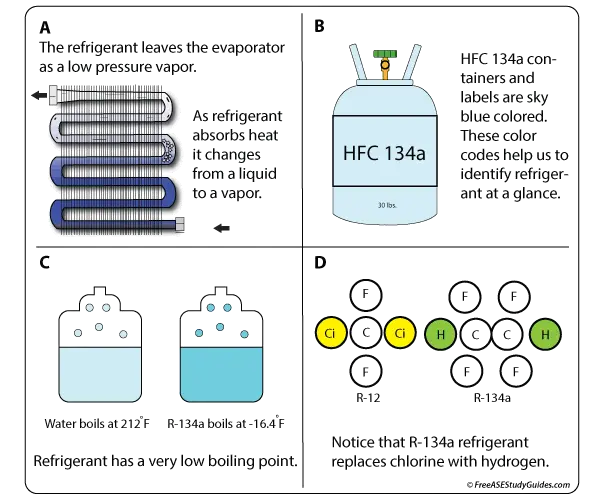 This reminds us of some of the basic characteristics of R-134a refrigerant. Answer A states that R-134a changes from a vapor to a liquid as it absorbs heat. This is not true. A metering device converts high-pressure liquid into low-pressure droplets that change from a liquid to a vapor as they receive heat from the air passing through the evaporator core. The idea is to get the core cold enough to cool the passing air without allowing it to freeze. It's a balance. A frozen evaporator core blocks and restricts airflow.
HFC-134a or R-134a (the same thing) is stored in a sky blue container, so answer B is correct. This is because refrigerants are color-coded, R-134a's predecessor CFC-12 or R-12 is contained in a white container. These refrigerants are used because of their low boiling point, so answer C is incorrect. Never intentionally release refrigerants into the atmosphere.