Manifold Gauge Readings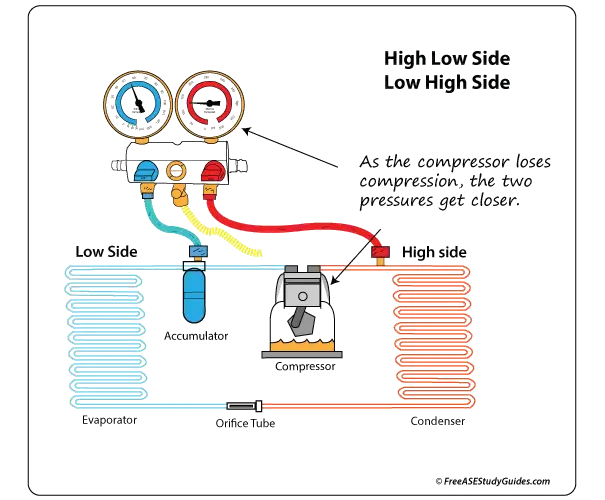 A manifold gauge set measures refrigerant pressures inside of an air conditioning system. An automotive air conditioner has a high and low side, divided by a metering device and the A/C compressor. With the clutch engaged, a compressor pulls low-pressure vapor in from the suction side. It compresses and discharges it at a higher temperature and pressure through the discharge side.
These pressures and temperatures are highly predictable and affected by the ambient or outside temperatures. They increase as the outside temperature increases and decrease as the outside temperature decreases. When the low side is high, and the high side is low, the compressor is not functioning properly. This is true whether it is a CCOT (cycling clutch orifice tube), or a TXV (thermostatic expansion valve) system.
When a system is static and not in operation, the pressures are equalized and very close to each other. A slight hissing sound can often be heard while the pressures are equalizing, immediately after shut down. As the compressor wears and gets weak, the high and low side readings of the system start getting closer to static.