A/C Accumulator Function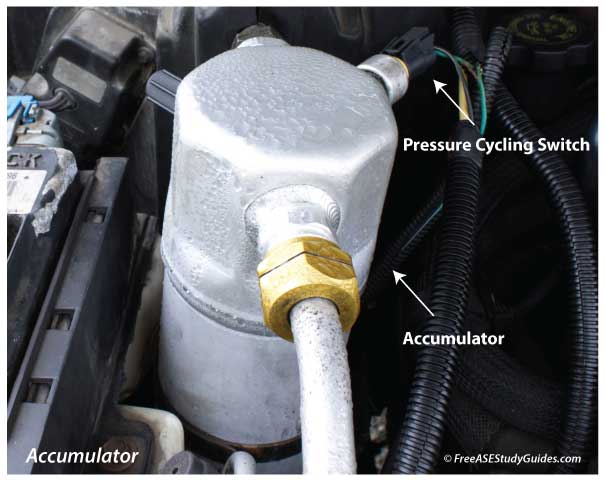 Accumulators are used on (FOT)fixed orifice tube systems. They collect the excess liquid that may leave the evaporator's outlet tube. Compressors are incapable of compressing liquid. The accumulator allows only a fixed amount of oil and liquid refrigerant to enter the compressor for lubrication and cooling.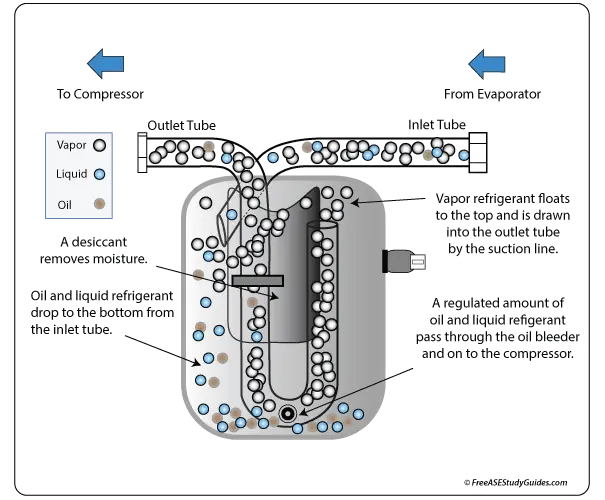 The accumulator is created with an outlet tube incorporating a unique U-shaped tube with an oil bleed hole at its base. As the excess liquid and oil enter the tank from the inlet tube, they drop to the bottom of the canister. Vapor flows through a desiccant before traveling to the outlet tube. As the vapor passes through the outlet tube, it draws a fixed amount of liquid refrigerant and oil through the bleed hole and onto the compressor.
They contain a desiccant bag. The desiccant absorbs and stores any moisture that would contaminate the refrigerant. This moisture alters the chemical structure 134a and may freeze, corrode, or damage vital system components.