In-Cabin Temperature Sensor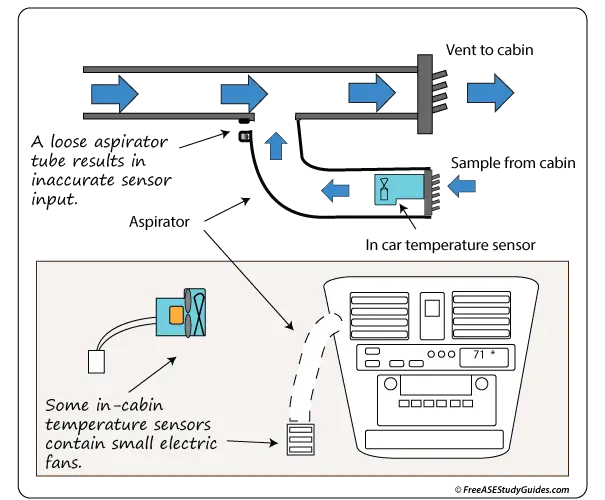 The in-cabin or in-car temperature sensor is an (NTC) negative temperature coefficient sensor. This means that as temperature increases, resistance in the sensor decreases. Its signal voltage varies between 0 and 5 volts. The electronic automatic temperature control system's microprocessor uses this, along with the ambient temperature and sun load sensors input, to adjust cooling load, fan speed, and volume according to different temperatures and conditions.
Inspect the aspirator tube to ensure it's fastened to the sensor and vent system properly. The aspirator relies on suction from the vent system. This suction causes the air sample to pass through the sensor. Also, ensure nothing is blocking the vent, typically located by the A/C control panel. Many sensors contain an electric fan that can fail, resulting in an inaccurate sample. These sensors can be located in different areas throughout the vehicle.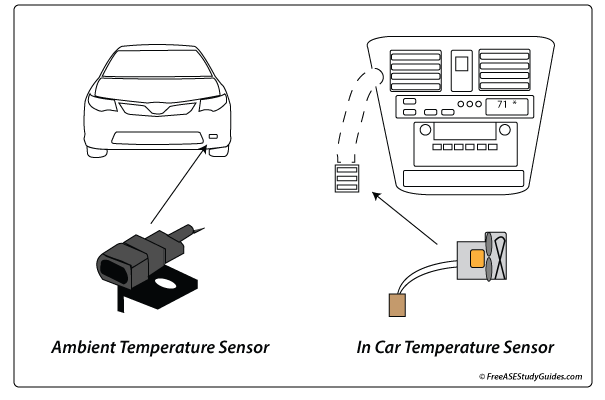 The In-Car Temperature sensor (ICTS) is a negative temperature coefficient sensor. It senses the air temperature of the passenger compartment, and the ambient temperature sensor (ATS) senses the air temperature outside of the vehicle. The EATC compares these values and makes output decisions based on the difference between these air temperatures.